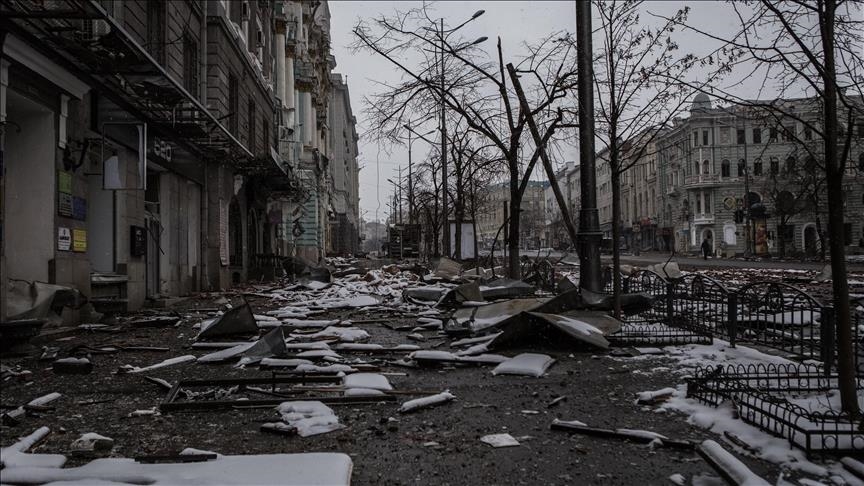 We are all watching world events with concern and perhaps even some anxiety. The world is changing very quickly, particularly in the realm of geopolitics. We shared this letter with our Founders and CEOs to offer them a set of principles and recommendations to use in times like this.
Dear Founders and CEOs,
Many of you are watching the world with anxiety. This is entirely understandable, the world is changing very quickly now. In the realm of geopolitics, change can be rapid. As Lenin said, "sometimes decades pass when nothing happens and then weeks pass when decades happen". You may not really care either, and for you Lenin's chosen successor Trotsky said "You may not be interested in war, but war is interested in you".
We are in the middle of non-linear, discontinuous change.
In times like this your sense of scale is suddenly out of calibration. You may think about business operations and growth and suddenly there are externalities beyond your control to deal with: war, recession, changes in governments, borders, pandemics, even famines.
Allow us to offer a set of principles and recommendations for you to use in times like this.
CARRY ON
First off, much of the information you will receive will be incomplete and often quite wrong. There is a fog but also a need for news organizations to curate what is a torrent of information. So a lot is invisible and of the visible you may not get what is most relevant. Avoid the tendency to jump to conclusions.
You have to be patient. Most of the early data is not useful. A shock leads to secondary and tertiary effects. There is a tendency to panic and highlight suffering and grief. If it bleeds it leads. There is a jump to conclusions. Much of this is transient and fundamentals tend to return quickly. Pay attention to "negative space" that is what is unsaid and what is not filmed.
That is not to say one should ignore the front page but be aware that the newspaper is only v. 1.0 of history. Your best course of action is to "stay calm and carry on". It's a cliché but it made sense in wartime Britain and it makes sense now. Staying focused on your work keeps you calm and offers reward through progress. You will also set an example to others of fortitude and endurance.
ANALYSIS PARALYSIS
The information overload can lead to paralysis for those who want to collect data for decisions.
Consider the impact of commodity pricing as a result of the sanctions on Russia and the (current) partial occupation of Ukraine. The immediate consequences are already breathtaking. An iron curtain appears, commodity prices are skyrocketing and economic indicators are falling. Oil is at all-time highs, and the Nasdaq is in bear territory. Nickel prices went vertical, the metal exchange closed, and the Ruble crashed so badly that it's not clear there is any liquidity. Wholesale energy prices in Europe have blown past historic records, and a European recession looks almost certain. Economists are now calling odds on a US recession.
However, recall the panic following the beginning of the COVID-19 pandemic. There was a market crash, expectation of a recession if not depression and a run on many products. Fear gripped the world. It was tempting to collect data on rates of infection, model the "curve" and predict an end. Certainly many predictions were made and almost all were wrong.
What happened was that the technology industry quickly rallied and a boom in products that permitted work-from-home, conference calls, home entertainment and even home improvement followed. The real estate market took off while hospitality plummeted.
The boom was then followed by a bust, but remember that the initial panic was universal, undirected. In reality society formed a response and people adapted. There are mechanisms for coping with shock which modulate or moderate the negative impact.
Don't try to be an economist in a crisis. The best advice is to stick to the existing strategy but modulate it as conditions change. Grasp opportunities as they arise, for they will.
INTERESTING TIMES
Warren Buffet says be greedy when others are fearful, be fearful when others are greedy. This is basic contrarian logic. During the time of the Napoleonic Wars Nathan Rothschild, a British financier and member of the Rothschild banking family, said "the time to buy is when there's blood in the streets." More of the same logic.
At the same time you're told not to catch a falling knife and that "pigs get fat but hogs get slaughtered." In other words, avoid taking risk and being greedy in a crash.
What do you do then? Well, the notion of panic does not by itself justify a positive attitude. What matters is understanding when the panic is ill-advised. Look for where there are opportunities and where a disaster creates an acceleration in an existing demand curve.
During the pandemic we saw an acceleration in internet shopping, a well established adoption curve. We saw more interest in smartphones and computers, again, an old pattern. Tech was a big beneficiary while other sectors, which were already being disrupted, accelerated their declines.
Technology adoptions in this century have tended to be very fast, on the order of a decade for smartphones, social media, and wearables to go from zero to mainstream adoption. However, transportation evolutions like electric cars, micromobility, and smart homes have been slow. Tesla is doing well but it's been 18 years and still not producing more than 1 million cars out of a market of 80 million per year.
But a war involving a large oil supplier will likely create major opportunities for new sources of energy. In the short term, countries will lean on managing sources to keep prices down. But over time we will see significantly more wind and solar projects. Today, we shouldn't focus on commodities which are all the rage, but on a future of green energy. That revolution has been underway for a while but now will go into hyper growth. The perceived risks of new systems and sunk cost fallacies for old systems kept adoption slow but now clarity compels urgency.
The point here is that there is a silver lining. We are not recommending reactionary contrarianism but an understanding that rarely is a crisis without opportunity. The old adage of "May you live in interesting times" being a curse in China rings true but great progress is made in times of uncertainty. The other story is that while Italy was in upheaval during the late 1400s with wars a constant threat, across the border Switzerland was peaceful and harmonious. During that period Italy gave us the Renaissance and all the Swiss came up with was the cuckoo clock.
THE (PANDA) BEAR IN THE ROOM
This note is about geopolitics, so we need to deal with the elephant, or bear as it were, in the room. Some of us are old enough to remember the bad old days of the cold war, and many have suggested that what we are experiencing here is a "return of history". That is the return of the drama and tension and impending possibility of global war that comes with a divided world, a world divided by opposing ideologies: collectivism vs. free markets.
The return of a new cold war and the intrigues, proxy wars, closed borders, propaganda, and political oppression haunts us still. This is the essence of geopolitics. That nations are playing a "great game" or three dimensional chess on a world stage.
How can we make plans if nuclear war is hanging over our heads?
Easy. The cold war was a time of great innovation. It compelled nations to compete in space and military technologies begat all kinds of spinoffs. Silicon Valley itself was born from the space race as a newly created NASA sought new technologies such as semiconductors as they rushed to land on the moon. Research was everywhere: in academia but also in industry and in government. The point is adversity does not impede invention but is the mother of it.
This is not to make light of the risks involved and the 20th century was the bloodiest and cruelest ever. We don't dismiss that. But we have to appreciate that, as in the Renaissance, we did not have to have peace to prosper.
The great game today is multi-dimensional. It's not ideological but autocratic vs. democratic, modular vs. integrated, dependent vs. independent. China is the counterweight and the adversary most likely to impede development. And yet it's also an enabler. Allowing for more flexible and thus more rapid product development. Caveat emptor however; be cautious for pitfalls. What the Russian debacle has shown is that exposure to one supplier (e.g. energy) can crater your business.
One thing helps: a moral compass. We know it's a bad idea to invest in sketchy markets and opportunities. We understand that bad partners make for bad business. We should not work within corrupt systems. And yet what we see with Russia is a creeping tolerance for bad behavior which ultimately costs everyone exposed there dearly. Think of lies, bribes and intolerance as liabilities which accrue on your balance sheet. They accumulate in the liabilities just as good practices like innovation, accountability, and diversity multiply your assets.
RECOMMENDATIONS
So, it turns out we are living in interesting times. Our recommendation is to:
Focus on the task at hand, don't be discouraged by non-linearity. Shocks are dampened by coping systems that society creates.
Reassess risks and opportunities in times of great change. All is not lost and new opportunities do emerge.
Adversity and adversarial politics can be the mother of invention.
Maintain and refer to a moral compass. Doing the right thing is never a bad idea while making ethical compromises is always going to cost you.
Regards,
Team Relay
PS: The type of analysis that works during times of calm does not work in times of crisis. You need what we call non-linear thinking. We cannot extrapolate from near-term data. But we can find clues in old data. We have to read history because crises are abundant in our histories and we can learn much from them. Indeed it's true that failure to learn history leads to repetition of mistakes.